This "News" page generally only relates to matters of interest to the KISSFAQ. There's no need to replicate news that can be seen on other KISS websites. If you use information appearing on this or any other KISSFAQ page, in print (fanzines) or online (directly quoted or rewritten), please have the courtesy to say where it came from. If printing in fanzines, I'd love a copy sent to the KISSFAQ PO Box. Should you want official announcements please visit the band's official website at: KISSONLINE.COM.


German "Kissology" releases...
Tuesday, April 21, 2009 12:27:02 PM


"Kissology" Vol. 1 will be relseased on DVD in Germany on May 22, via Edel records GmbH, featuring the same bonus DVDs as previously issued in the US and Japan. Click covers to order from Amazon.de.

Bruce offers up "BK3" EP
Tuesday, April 21, 2009 12:27:02 PM






Bruce recently offered a three-track CD during his Australian visit. The CD features "No Friend of Mine," "And I Know," and "Between The Lines," three tracks off his forthcoming solo release. The EP is now avaliable for order on his website. Click the cover link...

"Authorized Bootleg" release slips?
Tuesday, April 21, 2009 12:27:02 PM

"Authorized Bootleg - Nashville Municipal Auditorium 1998" (Mercury/UMG 602517982710) originally expected on May 26 appears to have slipped to June 30. There remains a question concerning which show/tour this release will be from, but it will apparently be a double-CD, if it actually does get released... On June 16 another unauthorized public domain DVD is released via IMV Blueline: "Kiss: Over The Top."

Ace Samples "Anomaly"...
Monday, April 07, 2009 11:12:55 PM





Ace Frehley has issued his first video blog (click above) offering up samples of "Genghis Khan" and "Foxy And Free," tracks off his forth-coming CD "Anomaly." These add to his taste of "Pain In The Neck" featured earlier. Rock on Ace!

Kiss dominates Argentina...
Sunday, April 05, 2009 8:16:24 PM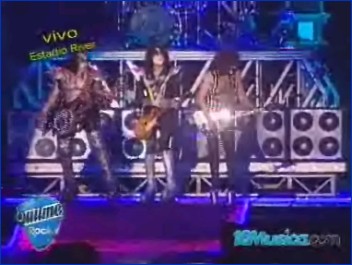 Kiss blew away Buenos Aires tonight playing the closing night of the Quilmes Rock Festival at Estadio Monumental Antonio Vespucio Liberti in Argentina. Following a set comprised of material from the classic "Alive!" album the band included a selection of their other classics. Here's some audio samples from the stream:

Rock And Roll All Nite
Shout It Out Loud
Lick It Up
I Love It Loud
I Was Made For Lovin' You
Love Gun
Detroit Rock City

Kiss back on the road...
Saturday, April 04, 2009 4:58:49 AM

After a week of rehearsals, Kiss returned to live action last night with a show at Estadio Municipal Mundialista de la Florida in Santiago, Chile. The band performed most of the classic "Alive!" album and a selection of hits while Paul sported a vest reminiscent of the "Love Gun/Creatures" era. The band performed: Deuce / Stutter / Got To Choose / Hotter Than Hell / Nothin' To Lose / C'mon And Love Me / Parasite / She / Watchin' You / 100,000 Years / Cold Gin / Let Me Go, Rock 'N' Roll / Black Diamond / Rock And Roll All Nite / Shout It Out Loud / Lick It Up / I Love It Loud / I Was Made Lovin' You / Love Gun / Detroit Rock City...

"Anomaly" Track Listing
Wednesday, March 25, 2009 4:07:36 AM

A Library of Congress copyright registration indicates Ace's "Anomaly" album will have the following track-listing:

1. Outer Space
2. Foxy & Free
3. Sister
4. Too Many Faces
5. Itís A Great Life
6. Skels
7. A Little Below The Angels
8. Fox On The Run (Sweet Cover)
9. Change The World
10. Pain In the Neck
11. Genghis Khan
12. Fractured Quantum

Additionally, the description states, "Hard Rock musical sound recordings performed by Paul Frehley, publicly known as "Ace Frehley" of Kiss, produced and recorded in Westchester County, New York from 2007-2009 and mixed by Marti Frederiksen for release in the United States."
---
N E W S A R C H I V E
1996-2008