All Systems Go With David Snowden
David Snowden: The KissFAQ Interview
By Tim McPhate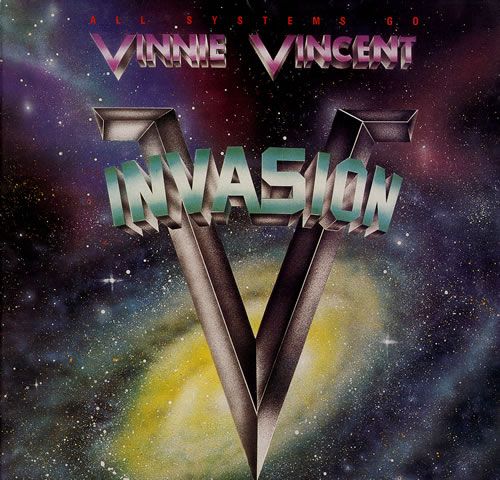 When Vinnie Vincent Invasion's sophomore album, "All Systems Go," was released on May 2, 1988, hopes were sky high.
With the Led Zeppelin-inspired "Ashes To Ashes," the crushing "Breakout," the moody "That Time Of Year," and four-on-the-floor stompers such as "Burn," Vincent had arguably uncorked his best and most diverse slate of songs to date. The Invasion -- Vinnie Vincent, Mark Slaughter, Dana Strum, and Bobby Rock -- were ready to take no musical prisoners and the timing seemed perfect, too. In 1988 rock bands such as Def Leppard, Bon Jovi, Poison, Guns N' Roses, Van Halen, and Cinderella all inhabited the upper echelon of the Billboard 200.
Unfortunately, within the span of only three months, internal strife and various personal- and business-related issues caused the Invasion to disintegrate. And despite the release of two singles, including "Love Kills," which was featured in "Nightmare On Elm Street 4," and a brief tour, "All Systems Go" was essentially dead in the water.
"But by the time 'Love Kills' actually came out as a single, the Invasion was over," says David Snowden, who oversaw the Invasion's fan club. "I mean even when they went and did that video, it was over."
Given his unique position and close contact with the band, Snowden had a front-row seat for what was ultimately a tumultuous time for Vincent and the Invasion. Whether it's recalling Strum's important role in the studio, Vincent's inability to put a guitar down, Chrysalis Records' growing affinity for Mark Slaughter, or Vincent's secret role with David Lee Roth's "Eat Em & Smile" band, Snowden recalls the details with an amazing clarity.
Today, the longtime KISS fan runs his Baltimore-based company,
David Snowden Promotions
, which specializes in marketing strategies and the development of grassroots programs and licensed merchandise to promote entertainment artists. In addition to Vincent and KISS, Snowden has worked with artists such as Cheap Trick, Alias, Joan Jett, Dio, Britny Fox, Thin Lizzy, and Strum and Slaughter's post-Invasion band, Slaughter, among others. 

With the calendar inching toward May, it is hard to fathom that it will be 25 years since Vincent has released a studio album, far too long a time period considering the depths of his talents. "He was a great songwriter, he was a great guitar player," says Snowden.
So buckle up. All systems are go for part one of KissFAQ's chat with Snowden regarding his wild ride with the Vinnie Vincent Invasion.
David Snowden
Courtesy of David Snowden Promotions
KissFAQ: David, longtime KISS fans and will surely remember you given your work on "KISS Revolution" and "KISS Force" in the early '80s. But for those who may not be familiar, can you give us an overview of your KISS background?
David Snowden: Well, it started [around] 1983. "Creatures Of The Night" was just getting ready to come out and there was really no KISS Army at that point. It had disbanded, it was done. And I had started to do this newsletter that I called the "KISS Revolution" and I put an advertisement in the back of "Circus" magazine because that was always the way to go. And that's when I got a telephone call one day from Keith Leroux, who was in Worcester, Massachusetts. He told me he really liked what I was doing and he had this big grand idea that we could do the whole KISS fan club thing. And that's when we decided to put it all together and do "KISS Force." And in doing "KISS Force" I was relying on Keith to get together pictures for the fan club package and get some PRICES and in the mean time I was constantly hounding the band, trying to get interviews with them because I thought that was the one thing with all the different fanzines that you'd seen over the years, nobody ever did interviews them. I'll never forget, what was it, back in '85 maybe, Ace was on his seven-city club tour and he played Scranton, Pennsylvania. I wasn't of legal age. He was scheduled to play Baltimore but it was a 21 and over crowd. So I thought, "Well, if I can't go to the show here, I'll go to Scranton." Ironically enough, the Baltimore show ended up getting cancelled. But when I went up to Scranton, I was actually invited by Ken Sharp, who everybody knows. Ken had invited me to the show, he got me on the guest list. And I got there, I met Ken, talked to him and met a really nice guy named Jim Rosensteel. Jim ended up working with me on Lydia's book ["Sealed With A KISS"]. He actually did the KISS Asylum website for years and years and years. When I was doing all the KISS merchandising, he maintained my website. [He's] a really, really good guy. I mean he's so good with his web design, he now works for a huge federal government agency doing website for them.
But at that particular show, when the show ended I saw the backstage door and I had been calling George Sewitt for months at his apartment, trying to get an interview with Ace. So I walked through the backstage door, walked right up to George Sewitt, and he looked at me and he said, "Who the fuck are you? And what the fuck are you doing here?" (laughs) That was introduction to George Sewitt and I looked at him and I said," I'm David Snowden and I've been calling you about doing an interview with Ace and you haven't returned my calls so here I am." He looked at me, and he said, "Wow. You know what? You've got a lot of balls. But don't you go anywhere." And then he turned, he goes "Anton, watch this guy," which was Anton Fig. He says, "Don't let him go anywhere." Well I'm standing there, and I had two Frehley's Comet T-shirts that I had bought and I had Anton and Richie and Jon Regan and Arthur Stead all sign the shirts. And then Jon Regan looked at me and said, "You know Ace hasn't signed this yet." He actually took it and went in the back and he came out and it had Ace's signature on it. And I thought, "Well, this is kind of cool." Then George Sewitt came out and he said, "Come with me." I went in and Ace was sitting in a chair and he said, "Ace, this is David Snowden. He wants to do an interview. He's not doing it today. But I think we should let him do one." And he explained to him what I did and he then George said, "He's just here for an autograph." And I go, "Oh shit." I just got Ace's autograph on one of my shirts but I handed him the other one, and he signed that. And two weeks later I ended up at the Power Station in New York City when Ace was cutting the scratch vocals for "Into The Night" and I did an interview with him then.
KF: I believe this particular interview is on YouTube.
DS: Yeah, a lot of the stuff ... you know, when you kind of get involved with KISS circles you meet a lot of people. And because I had done a lot of those interviews, with Ace, Peter, Eric, Mark, Bruce, Gene, Vinnie, and what not, I had let a lot people borrow them and listen to them and they just started circulating. I went to a convention once and saw an actual CD with the Eric Carr interview I did. And of course, now you go 20, 30 years later and you go back and listen to them and you go, "God, I sounded like an idiot talking to them." But you know it was fun stuff and all a part of growing up.
KF: Absolutely. So how did you exactly come to work with Vinnie?


DS: After doing so many interviews with the guys, I ended up meeting Vinnie and I got a hold of him when he was back in Connecticut and he was cutting a lot of his demos. That was with Hirsh Gardner and the guys that went on to form Alcatrazz. We had kept in touch and then he eventually moved to L.A. and one day as he was getting closer to getting his [first solo] album done -- Keith and I always believed in doing bigger and better advertisements to really expand out what we were doing and we had done a bunch of ones for the KISS Force fan club that were full-page things in "Circus" and "Hit Parader" and "Faces" magazine was like the big thing. We decided one day to do one for Vinnie. And we also did one for KISS for the release of "Asylum" and they ran around the same time and I had gotten a call one day from Chris Lendt who said to me, "David, Paul was looking through a magazine the other day and he was just knocked over." And I was like, "Oh that's great." And I'm thinking he was referring to the full-page ad we did for KISS but he was upset about the ad we did for Vinnie.
Later that week I talked to Vinnie and I was telling him about it and Vinnie says, "You know what, I'd really like you to do my fan club." And he said, "But you've got to understand, [there's a] conflict of interest."
KF: Right.
DS: And I talked to Keith about it. And I told Keith that I thought this was my chance to do what I really loved and to do it in a real official capacity and to really get involved. And I ended up selling everything out to Keith and I moved on with Vinnie. We kind of took it from there. We went through the whole first record, [I] went with them on tour a lot. I know that some people have seen on my Facebook company page, they probably see pictures of Vinnie at my parents' house having dinner.

KF: David, you have to tell us about Vinnie Vincent coming over to your house for dinner.
DS: How that happened was my mom was a little concerned. Here I was, I was going to college, she knew I was getting involved and trying to do this band thing. And she just thought I was going to become a drug addict or an alcoholic. And I kept trying to explain to her, "Mom, look these guys aren't into that." I don't want to tell my mom that these guys are really into sex, that's what they're really into. It's all about women. (laughs) But she really thought it was about drugs and alcohol. I said, "Mom, you really have to meet them." And she said, "Well, maybe they should come over here and talk to me." And I called George and I said, "Hey, here's what's happening. My mom is a little concerned." And he said, "You know what, we're going to be in Baltimore for a couple of days. We've got a layover there with the Alice Cooper tour. Why don't we come over and meet your mom." And my mom made this big dinner and I'll never forget going out to the tour bus, pulled up in front of my house, and I walked out and I got on the tour bus and George Sewitt is standing there and he's looking at each one of the guys and he's like, "Look, this is Mr. and Mrs. Snowden's house. I want you to go in there and I want you to be polite. I want you to watch your language. And by all means, be fucking gracious."
KF: That's great. (laughs)

DS: And they came in and they sat down and my mom served them dinner and she was talking to them. And I'll never forget, I was sitting next to Bobby Rock and he said something, I don't remember exactly what it was, but he used the word fuck. And it took me back to when I was a little kid because as soon as he said that, he was sitting two people over from George Sewitt, but George was able to reach and smack him in the back of the head. Bobby looks at me and he goes, "What the fuck?"
David Snowden, his sister Terri and Vinnie Vincent
Courtesy of David Snowden Promotions
KF: (laughs)

DS: And then Bobby realized my mom standing behind them. And he says, "I'm really sorry." And my mom said, "That's OK honey. I understand." It was an interesting day because the household I grew up in, it was four of us. My oldest sister was severely retarded but always lived with my parents. And Terri just loved music. And she had a real sense of people. She could communicate with us and we understood what she wanted. But she would know if somebody liked her, was afraid of her, or if she just genuinely really loved somebody. You know, I guess it just gave you a good gauge on when you knew when people were very genuine. And she took to Vinnie. And she sat on his lap and she kept holding on to him and back them everybody had the long hair and everything. Terri used to love to pull on my hair. And she was sitting there on Vinnie's lap and she's pulling on his hair. And I said to her, "Terri, please stop." Vinnie goes, "No, no it's OK." I go, "Vinnie, look, she's going to pull that damn thing off your head."
KF: (laughs)


DS: "You have to tell her no." But she just loved him. And she just had a great time. My sister was always so great about that. The first time I got married back in '93, Joan Jett came to my wedding. And when she came in, it was really funny. Like I said, Terri loved music. The first song that I ever worked for Joan was "I Hate Myself For Loving You." My sister loved that song. And when Joan came in she was talking to me and they started to play that song and my sister Terri walked over, not knowing who she was, but grabbed her hands and made her clap and dance with her.
KF: That's great.
DS: But getting back to the Vinnie thing. What ended up happening was they had dinner, my mom understood and finally got what it I was that I was doing with these guys. After that, we ended up taking Vinnie back to the hotel because they had three or four days off. Vinnie wanted to go back to the hotel and get some sleep. He wanted to call Ann-Marie and Jessica and Elizabeth, his two kids. So we dropped him off at the hotel, so Bobby, Mark, Dana, and myself, we got ready and we went over to Hammerjacks, which was a pretty famous club in Baltimore. So we took those guys over there and they got their first taste of Hammerjacks.
The next day, I ended up picking the guys up and we went over to the local shopping mall and they did a bunch of shopping, which was kind of interesting when you see these guys walk through the ball because you could tell they were in a band. It was really interesting to see people follow us around stores and Mark was just so open and great with people. He'd turn around and he'd be like, "Hey, it's OK. If you want to come over and get an autograph or talk to us, it's OK." And it was a lot of fun. And two days later they played with Alice Cooper in Baltimore and the tour progressed up to Philly and a bunch of other areas. So, that was a fun time.
KF: David, May 2013 marks the the 25th anniversary of "All Systems Go." Out of the two Vinnie Vincent Invasion albums, which do you like best?
DS: Actually, "All Systems Go" and I say that because the first record was more or less a Vinnie Vincent record with a lot of over-the-top guitar solos. Whereas the second album was a more band-unified effort. That's when they were actually pushing to stress all four band members. The record company was really hip on Mark Slaughter. They thought that he was going to be a superstar. They thought he had the voice, the looks and the personality. Even if you went back and looked at the second fan club package that I put together for them, each guy in the band had their own bio and on the cover of the bio had the big Invasion logo. But Vinnie's said Vinnie Vincent on the top. But Dana Strum's said Dana Strum. Mark and Bobby's had their names. Because it was getting to the point where as the album was being recorded the discussion was made with all of them that they were going to eventually, by the third record, drop the name Vinnie Vincent and simply call it Invasion.
KF: Really?


DS: I mean Vinnie was the principal songwriter, he was the guy. He was the guy originally signed to the record contract, it was his band. But by the time you got to the second album, a lot of people don't realize that Vinnie would come in with all of these ideas in one song. And when you'd listen to it sometimes, you'd be like, "OK, well that's too much." And Dana was the guy that sat there and would pull the ideas out and he would arrange them and make them into the songs that they were. I mean Vinnie still got the full credit of being the sole songwriter on it but Dana had so much to do with that and in the meantime you had Mark who was pulling on his influences. I think that album was heavily influenced by Led Zeppelin. And you could certainly here that on the song "Ashes To Ashes." 


KF: Yes, between the vocal melody and the octave-based riff, there are definitely touches of "The Immigrant Song" there.
DS: Yeah, and Mark was going for that big Robert Plant kind of sound. Vinnie dug that. Hell, even when they went on tour, Vinnie had pants made that had the dragon down the side like Jimmy Page had. Bobby came in with this unbelievable talent for playing the drums. I mean that guy could play anything.
KF: He's a very talented drummer. I don't know that most fans understand how good he is.
DS: The Japanese version of the CD had the two bonus tracks, "The Meltdown" and "Ya Know I'm Pretty Shot." On that song "The Meltdown," that's Bobby Rock with a big bass drum and two other drums and that's it. He got all of that out of those three drums. I tell you, if that guy comes to town and he does a drum clinic you want to go and ask him to do what he calls "The Octopus." His hands are going so many different places, doing so many things, and you're looking at him and going, "How do you do that?" He's just a really, really talented guy.
Vinnie Vincent Invasion
KF: Moving deeper into "All Systems Go," there's a wealth of diversity on this album. There's the aforementioned Zeppelin-inspired "Ashes To Ashes," straight-ahead rockers like "Dirty Rhythm," moody mid-tempo tracks like "That Time Of Year," galloping metal like "Breakout," and lush ballads like "Ecstasy." There's also "Love Kills," which is very atmospheric.

DS: Yeah, well if you ever went on tour with Vinnie and you'd stop at an airport or a hotel magazine shop, what was the first thing Vinnie always went for? He went for the "Playboy," "Hustler" and the "Cheri" magazines. Despite that people have all these big ideas about Vinnie with sex changes and being bisexual and all that, I mean he was a really sexual guy who was really into women. And that's where he pulled his inspiration for a lot of his songs. He was just a really, really talented guy who could sit down and do that. I mean the first Invasion record, he had a couple of years to do that. He left after the Lick It Up tour, they kept calling him back, wanting him for "Animalize," to come in and write some more songs, and that's when he said, "You know what, I gave you my first baby. I can't give you another one."
But he had two years to develop those songs, where with "All Systems Go," they came off the road with Iron Maiden and Vinnie started writing and in a period of a couple weeks he had all these songs. Which is just amazing when I would go to L.A. and hang out with those guys you'd go over to his house or you'd go to the recording studio or the rehearsal space, the guy was always playing his guitar. He was always writing down ideas for songs. I was over his house when he recorded a bunch of demos with Jeff Scott Soto. His TV room was set up that it had a big mixing board so he could record stuff. And right next door to his TV room was the bathroom and that's where they used to record all of the vocals. Imagine you're 20 years old, you're in Vinnie Vincent's house, which in itself, you're like, "You know, this is kind of cool." (laughs) And this guy comes over, he jumps in the shower and the guy is literally singing in the shower. And you're like, "This is kind of wild." But Vinnie was also a big fan of the little guitar amp, the Rockman, and he would set that in his tub and Vinnie would set there in his hallway, outside of the bathroom, just playing away, doing his thing, to get the sounds that he wanted.
KF: Now that you mention it, on some of his demos, his guitar tone does sound like a Rockman.
DS: And that's exactly what it is. I was always amazed and I used to ask him all the time, "Where do you come up with this stuff?" And he would tell me, "Looking through magazines, seeing other experiences other people were having." He would listen to other people about their relationships. He would also draw from his own relationship with Ann-Marie. And he would look at his two children, Jessica and Elizabeth. I mean he loved them. You definitely got a different vibe ... so many people when they think of Vinnie they hear about all the craziness, a lot of it goes back to a lot of business things. But I think everybody knows that. But they don't know what he was as a family man. And as a family man he was really, really great. When he wasn't playing with his kids, when Mark and I were over there we were playing with his kids. He was always trying to write letters to the fans because that was important to him. He was trying to do what he could.
And I would see some of the opposite side of things when we'd go to the studio. One of the funniest things I remember is when we are at the studio when they were recording "All Systems Go," every day around three o'clock Vinnie's wife would call and ask for him. And then he'd get off the phone and say he had to go home. After a couple of days of that, everyone caught on to it. So then when the studio phone would ring, somebody would pick it up and answer in a Hispanic accent and they'd say, "No, there's no Vinnie here and they'd hang up." So Vinnie was staying and he was recording and that's how they were getting a lot of stuff out of him. And it even got to the point where I think Vinnie was catching on to it and then he'd start always asking what time it was. And finally somebody pulled the plug out of the clock, and whenever he'd ask, it was always one o'clock.
KF: (laughs) Playing tricks on Vinnie.
DS: One day Vinnie came in and he said that he thought the studio lights were a little too bright, and that could they turn them down because they were kind of hurting his eyes. Well, I don't want to name names (laughs), but one person turned down the lights and they started to dim them and they turned them up and before you knew it the lights were brighter than what they initially were and Vinnie was doing a couple of his guitar solos wearing sunglasses in this fully lit studio, which was really funny. Again, here you have a guy who was so concentrated on his guitar stuff, I don't think he was realizing a lot of the stuff that went on. And even as the band broke up, one of the things that a lot of people don't know -- and I guess that's where the later interviews in the early 2000s when Vinnie was going around doing the circuit and he was talking about re-recording "All Systems Go" and he was talking about players who could really truly realize his vision. He had that with Mark, Dana and Bobby and he knows that he had it.
But what upset him about it, and rightfully so, after the record was done, Chrysalis Records -- like I said earlier -- really wanted to push Mark Slaughter. And they wanted to try and get that younger market. The hair metal market had exploded. Mark was right up there with the good looks like Bon Jovi and they thought they could really market that. But the record company also wanted a very song-oriented album. They did not want all the over-the-top solos, and if you go back from many years ago, there was an article in "Metal Edge" magazine where Mark and Dana are holding up copies of "All Systems Go" and they did a big giveaway and they talked about how the band were mixing some of their stuff at Electric Ladyland in New York City. What had happened was, the record company called and they basically told Dana, "We need you to bring the tapes to New York. We need to hear this stuff." Mark and Dana came to New York and they cut some guitar solos, and some of the songs. Because they looked at it as they wanted radio stuff that could get out there, they didn't need the over-the-top, self-indulgent guitar solos that were on the first record.
KF: There's a version of "Ashes To Ashes" out there, which has an extended guitar solo.
DS: Yes, and I remember sitting there in the studio there when they cut that one. To this day, if I listen to that song, when it gets to that point of where they cut it, I can tell you exactly where it was. And I still remember watching them do that. But that wasn't to spite Vinnie, it wasn't to be nasty to Vinnie, it was to make his career bigger than what it was.
KF: I really like "Ashes To Ashes" as it appears on the album, and think it's a really cool solo. It has always reminded me of Randy Rhoads' solo in "Over The Mountain." Vinnie starts out very melodically, and then he really goes to town.
DS: Yeah, there were a lot of ones ... you know, I remember saying to Vinnie that the solo to "Love Kills" was a bit much. I mean that was just my personal opinion. And eventually when it did come out and they did the radio cut of it, they did cut the solo out. And if you go back and pick up the remaster they did a couple of years back, the edited version got on the remaster. And that's actually very disappointing because they should have put on the original studio version.
KF: Yeah, I was upset that the original version wasn't on the remaster.
DS: The original version of a song is the one that stays with you. That's the special one. I mean, I understood cutting it for radio because we do that for a lot of songs. And I understood cutting it for a video. But by the time "Love Kills" actually came out as a single, the Invasion was over. I mean even when they went and did that video, it was over. And if you went back and you looked at the maxi-single [or] the cassette single and a lot of them had stickers on it saying "featuring Mark Slaughter."

KF: I remember seeing the video title on MTV saying "featuring Mark Slaughter."
Vinnie Vincent and Mark Slaughter
DS: Yep. And the reason for that was is that everybody saw that the band wasn't going to last. And there was a lot of talk with managers that talked to the band members about, "Well, how about the three of you come and you leave Vinnie behind and we could have a real band." And there was a lot of that kind of talk going on. I know at one point I went out to dinner with Vinnie and Ann-Marie and Vinnie asked me about it and I felt bad but I told him, I said, "That's really something that you need to discuss with them, not with me." And even before the tour started I got a call one night from Dana saying that Vinnie's new manager and Vinnie came in to rehearsal and said that I made some statements that I never made and I said to Dana, "Well I never said that." And Dana said, "Well, we don't think that you did. We think he was just trying to play our hand. And because you were here through a lot of it, it was an easy out." And so much of it ended up falling apart during the recording of that second album because Vinnie was thinking about changing management.

KF: When I interviewed Bobby in 2010, he alluded to this. It's an unfortunate situation, David. Here is a band that seems to have a promising collection of songs and for all intents and purposes the project was compromised from the start.
DS: Yeah, and that's really what it was. The change in management -- that all went on during the recording of that record. At one point I know they talked to Bill Aucoin because I was there when Bill Aucoin came in. And he sat down and talked to them. Shep Gordon talked to them, who was Alice Cooper's manager.
KF: Were they just talking to Vinnie?


DS: Well they talked to all the members because they were looking to pick up the band. What happened between Vinnie and George, I mean have my impression of what happened. And I think a lot of that was George wasn't there for the recording of most of the record and I think Vinnie was led to believe that he wasn't that interested. That's just my personal opinion. But George to me, he was the guy who got me started in this business. He was the guy who believed in me. When Vinnie asked me to do his thing, I had to convince George that I was the guy. I love George. I think George is a good guy. But I think what happened was him not always being there is what kinda thew some of the doubt in Vinnie's mind and Vinnie started looking for this new manager. But each time a new manager came in, [they] would meet with all four members but then there were times too when you would see these potential members going off with some of the individuals and talking to them. I think that's where a lot of that stuff came in and where the band started having their doubt was that Vinnie thought that they were all just going to leave him and go on and form their own band. And ultimately when the band broke up, Chrysalis Records decided that they were willing to put their faith into Mark Slaughter and not Vinnie Vincent. But like I said, they were gearing up ["All Systems Go"] to go in that direction and they were looking to push Mark and to try to get it to the younger audience, and broaden it to not just KISS fans, but to general rock music fans. And it actually paid off because Slaughter was a huge, huge success.
KF: Yes, Slaughter's debut came out in 1990 and did very well. I know I bought the album because I was an Invasion fan. It was obviously good fortune for Mark and Dana but part of me has always felt that "All Systems Go" should have been that album to break through.
DS: And I think it could have if George would have stayed on as manager, he could have kept them united and kept them moving forward like the plan was. But it only takes a little bit for people to start casting doubt. It's like in any relationship. Everybody gets in their mind what it is they think it is going on, and before you know it, I don't think anybody knows what's going on. And it leads to so many misunderstandings. Before they went on tour, I think they knew that was going to be their last tour. Vinnie hired a manager, I remember his first name was Nigel. I can't even remember his last name to be honest with you, but he was an English guy. And Nigel, to me, he threw a big dividing line in there with those guys. He was making it out that this was not going to be a unified band effort and I think he was -- and again this is my personal opinion -- I think he blew a lot of smoke up Vinnie's ass, telling him how great he was. And he was. He was a great songwriter, he was a great guitar player. He had some talent there. But that's like telling any band member that they're more important than somebody else. If you've got four people in a band you've got to make it work together with all four of you. And you can't stress the importance of one over the other. Otherwise, it just doesn't work.
KF: That thinking goes back to the Bill Aucoin "equal partnership" philosophy with KISS. 


DS: Exactly. And it worked. No matter what anybody did, it worked that way. You know, when you have new managers step in and they want to tell everybody that they're a superstar and other people aren't, you're going to have problems. And I think that was a big part of the problem because when they shot the "That Time Of Year" video, everybody still seemed to be really into each other. Everything seemed to be really good. But it was a couple of days after they shot that video that everything blew up. When Vinnie approached them and started asking them about things that may or may not have been said or done. Again, it's very unfortunate. Hey things worked out for Mark and Dana and I was so happy for them because they deserved that sort of success. And things worked out for Bobby. Bobby went on and worked for the Nelson twins, which was huge.
KF: "After The Rain" was a very big album.
DS: Yeah. The only one that it didn't work for unfortunately was Vinnie.
KF: I want to go back to the album. "Ya Know I'm Pretty Shot" is a classical piece that is included on the CD version of "All Systems Go." Vinnie has cited classical players such as Andres Segovia and Christopher Parkening as influences, but sadly this is a side of his playing that fans did not get to really hear. Do you remember anything about the genesis of it? And is this a musical side of Vinnie you got to experience given your unique vantage point?
DS: To tell you about the genesis about how the song happened, that I don't know. But as far as seeing that side of Vinnie ... God, this is going to sound horrible, but I saw it more than I wanted to. And what I mean by that is no matter what you were doing, if Vinnie had a guitar in his hand -- which was probably 80 percent of the time -- he was always playing something. It might not have been plugged in, but he was still sitting there doing his thing. And there were times where I was having conversations with him and I was like, "Can you please put the fucking thing down?"
KF: (laughs)
DS: Because you're like, "Come on now." I can only relate it to, it's like when you talk to a teenager now and they're texting. And you want to say, "Are you listening to me?" It was kinda that way with Vinnie and there were so many times where you'd sit down with him and you'd try to have that conversation, and he would play. But when he and I were alone, you know I'd stay over his house sometimes, and we'd stay up and we'd watch movies all night and things like that. And sometimes he'd pull [his guitar] out, and he'd say, "Hey, check this out." And he would start to play a really nice classical piece. It was kinda cool and I would think, "This really isn't like the sort of thing I would listen to everyday." But I could really appreciate the fact that he could do that. And now when you fast-forward 25, 30 years and you think of it, you know he had so much talent to do so many different things. It's a shame that people didn't get to really hear it because so much of it got lost in a lot of the speed playing that happened, especially on that first record. I think that people knew that he was a really great guitar player, but it's kinda like Eddie Van Halen. Eddie's a great guitar player but you don't have to sit there and you don't have to do the tapping and the hammer-ons on every single song. People are impressed with what you do and you save that for your solos and you do it that way. But I think that's why you have Yngwie Malmsteen -- [he's a] great guitar player but has he ever really had huge commercial success? Steve Vai [had] a lot of success [with] David Lee Roth and Whitesnake. But I know that he had one [solo] record that sold really, really well.
KF: "Passion & Warfare."


DS: Yep. But how often do you want to sit down -- if you're a guitar player you may want to sit down and listen to it. But I know that I personally like to hear things that have melody and good hooks. I want to hear a good song. I could care less about drum solos, guitar solos, bass solos -- any of that sort of stuff. I want to hear good songs. I want to hear something that makes me remember it. And you listen to "All Systems Go," there are some great songs on there. You know, 25 years later, you can still remember the song "That Time Of Year." That's a great song.
KF: That's probably my favorite Vinnie-penned song. And I believe that song was better than 75 percent of the songs from the genre that were charting in 1988. For the life of me, I can't figure out how that song did not cross over and perform well.
DS: Well I think what happened with that was, if you go back to that time period and you look at the way record companies were releasing stuff -- and all the record companies did it -- they would get together and they would listen to a band and they would have one good rocker come out, the ballad, and then another rocker follow it up. Whereas "That Time Of Year" probably should not have been the kick-off song for that record. I think had they saved that for the second single, they would have had a better chance.
KF: Correct me if I am wrong, wasn't "Ashes To Ashes" serviced as a promotional radio single, backed with a medley of tunes?


DS: Yes, it was. And that was what initially they thought they were going to do as the first video.
KF: And that never was filmed?


DS: No. The only video that they filmed right as the record was coming out was for "That Time Of Year." They did that at a sound studio in L.A. That was a lot of fun. I think that was my first time that I was ever at a place where they shot a video.
KF: I think it's a well-shot video and it really came out well.
DS: Yeah, I remember thinking, "God, this really sucks for the drummer." Because the drummer has to be in every single shot. They're back there playing the whole time. But it was a lot of fun to go there to see that. I was with Mark and Dana when they had the road crew guys build the set as far as the drum riser [and] the little ramps that were supposed to look like little highway type of things.
KF: And there were the little Vs on the floor.
DS: The video company did that. When we went in, they had brought the band's equipment in and they had some extra amplifiers and that sort of stuff that were brought in. But that was the production company, the people who actually did the video. They did that. They put up all the lights. When the band got there, they had an idea of what was going to happen but the only thing I was aware of that was definitely going to definitely be there was the drum riser that the road crew had built and the two little ramps. And all the rest of it was just like, "Wow." And even the stuff that they went ahead and put in later. That was filmed the week later, the scene with the girl and all that.

KF: Do you remember who that girl was and how she got involved?


DS: No. That I don't know. I want to say -- but I can't say for certain -- but I want to say I think that might have been somebody that Deb Rosner brought in. Deb Rosner was the band's publicist at the time. And Deb had huge success doing publicity for Poison. And she was very, very gung-ho into Vinnie's stuff and the band. She was a really nice lady.
KF: So in hindsight, you would have led off with "Ashes To Ashes" as the first video?

DS: Yeah, I would have led off with "Ashes To Ashes." And then I would have went into something like "That Time Of Year." Even the song "Love Kills," that was great. They got the chance to get that into "Nightmare On Elm Street," but that wasn't like that was a special song that was penned for that. It wasn't like what Dokken did with "Dream Warriors."
KF: Right, they chose "Love Kills."


DS: Yep. The movie studio wanted a song and Chrysalis wanted pitched "Love Kills," and it worked.
KF: Do you recall talk about Vinnie writing a new song for the film?


DS: No, not that I'm aware of. I was never told that he was going to do anything special for that. He did a lot of writing for other people that was shopped.
KF: I like the Bangles song he co-wrote, "Make A Play For Her Now."
DS: That was really good.
KF: I remember reading somewhere that he was going to write with Nikki Sixx.
DS: Never happened. The closest that they got to that was when they were rehearsing as they were getting to the tour. And while they were in there rehearsing, Mötley Crüe was in the studio next door and they were rehearsing for a tour. But I never saw -- other than the two girls that were "the Nasty Habits" for Mötley. I saw Mick Mars a couple of times. Vince ran through. But I never saw Vinnie interact with them.
KF: In your opinion, how important was Dana Strum to the Invasion?


DS: Dana was [in the studio] 24/7. Dana was there more than anybody. Dana had more input into the Invasion than people actually realize. You know the big story of how Mark Slaughter came into the band, Vinnie with the lost tape and all that? It never happened.
David Snowden and Mark Slaughter
Courtesy of David Snowden Promotions
KF: Just another PR stunt?
DS: I can tell you 100 percent for sure that never happened. How that happened was Mark Slaughter -- I mean I knew him through some other friends that were KISS fans -- but Mark was actually really close to Dana. And when they knew that Robert Fleischman wasn't going to work out, Dana was the one who introduced Mark to Vinnie. He came in and he said, "I have got this guy." And I still remember when it was first introduced, George Sewitt said to me, "Dana thinks that he has a new vocalist for us because Fleischman's not going to work." And he said, "I've seen his picture, I've heard his voice and he looks like a cross between Eddie Van Halen and the Karate Kid." And if you go back and look at a young picture of Mark, he kinda does. And that's how he was described. And I was like, "I know Mark because his best friend, who lives in Las Vegas, he and I, we talk all the time." And that's how I knew Mark, through the Roz Parade and Xcursion and all that sort of stuff. And I still remember having discussions with Vinnie. Vinnie had his doubts. Vinnie wanted to hire a guy from Sweden [Göran Edman] who actually ended up [singing] on John Norum's first solo record ["Total Control"] when they did "Back On The Streets."
Vinnie wanted to hire that guy. And they had to tell him, "Vinnie, look that guy's from another country. He can barely speak English." That's what they told him, "You're going to have problems with work visas, getting him over here, you're going to have problems with him communicating to people." And Vinnie initially was very apprehensive over hiring Mark. I remember talking to him, he was like, "I don't know. Everybody's telling me that Mark's the way to go." But Vinnie's big apprehension was he thought that Mark was too young. He wanted somebody older, more seasoned. At that point, before Mark had actually come into the band, I hadn't met Vinnie face to face. Vinnie was telling me he wanted "somebody older, somebody more seasoned, more mature, you know, somebody like our age." And I said, "Vinnie, how old do you think I am?" And he thought I was around his age. And I said, "No, Mark's actually a year or two older than I am." You know, it gave him something else to think about. But Mark was a good guy. He was the guy. But with any rock band, they always have to have a good story for publicity.
KF: Exactly. It seems especially appropriate since Vinnie was in KISS, the masters of hype. David, how would you describe Vinnie and Dana's collaborative relationship in the studio? It seems Dana was instrumental in helping to capture and arrange Vinnie's solos.
(Don't miss part two of our interview with David Snowden as we discuss more Vinnie Vincent and "All Systems Go," plus some interesting KISS-related topics. Meanwhile, for more information on David Snowden, visit David Snowden Promotions at http://www.davidsnowden.com or on Facebook.)