30 Years Ago: Vinnie Vincent Makes His KISS Stage Debut
Armed with a ferocious new guitarist, KISS kick off the 10th Anniversary tour in Bismarck, S.D., on Dec. 29, 1982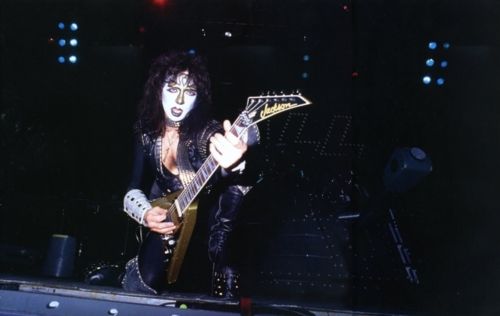 Vinnie Vincent brandishes his gold Jackson guitar in concert on the 10th Anniversary tour
KissFAQ.com
Tim McPhate
On Dec. 29, 1982, exactly 30 years ago, KISS officially kicked off their 10th Anniversary tour on a frigid winter's night at the Bismarck Civic Center in Bismarck, N.D. The concert is notable for not only being the first show in support of the then-new "Creatures Of The Night" album, but for being the official stage debut of "The Wiz," Vinnie Vincent. It also marked KISS' first U.S. concert since July 25, 1980.
Though his likeness appeared on "Creatures Of The Night," original guitarist Ace Frehley did not play a lick on the album. In November 1982, Frehley joined the band for a European promotional trek but made it known he would not be participating in the forthcoming tour. This promo trek would mark Frehley's final KISS appearance for more than a decade.
The Spaceman's departure ultimately left the door open for 30-year-old hot shot guitarist Vinnie Cusano, who was rechristened Vinnie Vincent. Vincent assumed the role of the sixth and final KISS makeup character, a guitar-wielding Egyptian Warrior marked by a distinct golden ankh that was designed by Paul Stanley. Though a relative unknown at the time, Vincent had already proved his musical worth on "Creatures," adding fiery guitar solos to songs such as the aggressive "Saint And Sinner" and co-writing the metallic "Killer," the dynamic "I Still Love You" and the album's anthemic single, "I Love It Loud."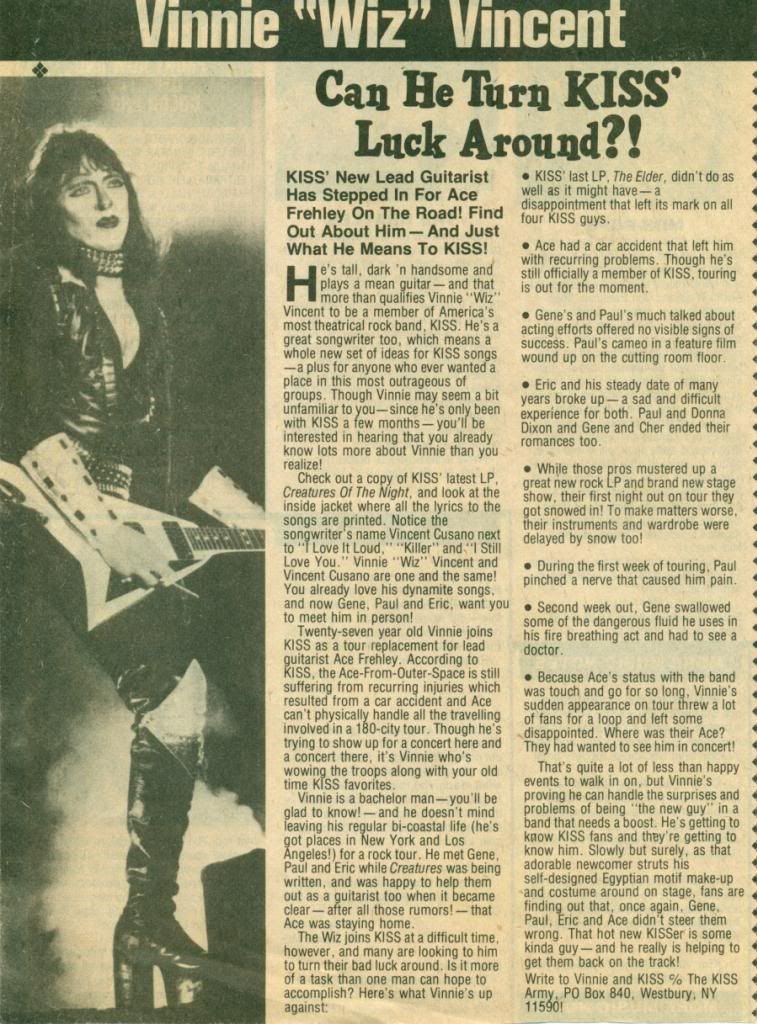 For their 10th Anniversary tour launch, KISS debuted a fresh set list complete with no less than six songs from the thunderous "Creatures Of The Night." This total represented 67 percent of the album's songs -- evidence that the band were proud of their heavy return to form. (For the tour, KISS had considered performing "I" and "The Oath" from "Music From The Elder," "Is That You?," "Rock Bottom" and "2,000 Man.") As if a rough-and-tumble set list wasn't enough, KISS proved there would be no concert attendees spared as they were complemented by a stage set in the form of a giant metallic tank.
Interestingly, the date in Bismarck was to be the second concert of the tour. KISS' first show in Rapid City, S.D., on Dec. 27 was cancelled due to a severe snow storm. As a result of a travel conundrum, KISS had to perform at the Bismarck concert using slightly modified "Love Gun"-era costumes, according to former KISS wardrobe manger Pixie Esmonde.
Though "Creatures" was barely two months old, as KISS headed into 1983 they were faced with not only uncertainty, but the reality of diminishing album sales and a 61 percent drop in concert attendance since the Alive II tour. Attendance at the Bismarck concert totaled approximately 3,500, just more than 40 percent of the venue's capacity. The turnout proved a harbinger of sorts as attendance for the entire U.S. tour would be patchy. (KISS legend has it that fans were slow to get word regarding Frehley's departure, with some being surprised to see Vincent's unfamiliar character on merchandise upon arrival to concerts.)
The 10th Anniverary trek would carry on for 55 concerts in total, wrapping on June 25, 1983, in São Paulo, Brazil, and marking the band's final concert in makeup until the reunion in 1996.
Though much has been written about Vinnie Vincent's volatile tenure with KISS, his modern guitar skills and songwriting sensibilities proved integral ingredients to KISS' revitalized sound as they charted a course for a new era. Here is the set list from Vincent's first concert with KISS:


Creatures Of The Night
Strutter
Calling Dr. Love
Firehouse
I Love It Loud
Cold Gin
Keep Me Comin'
War Machine
I Want You
Vinnie Vincent Guitar Solo
Rock And Roll Hell
I Still Love You
Shout It Out Loud
Gene Simmons Bass Solo
God Of Thunder
Eric Carr Drum Solo
Love Gun
Paul Stanley Guitar Solo
Black Diamond
Rock And Roll All Nite
Detroit Rock City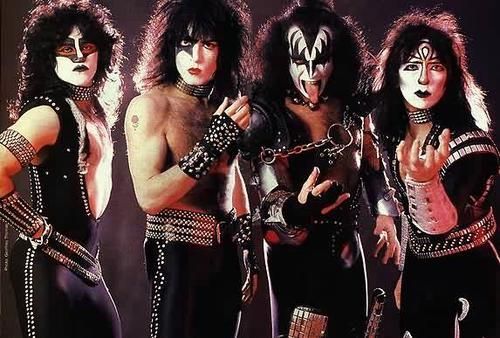 "Creatures"-era KISS: Eric Carr, Paul Stanley, Gene Simmons, and Vinnie Vincent