Vinnie Vincent's Hidden Guitar Treasures
By Tim McPhate
(To listen to excerpts outlining Vinnie's guitar playing on "Treasure," click on the links within the text below.)

Treasure: Vinnie Cusano, Felix Cavaliere and Jack Scarangella
When KISS fans think of Vinnie Vincent, menacing heavy-handed riffs in songs such as "Not For The Innocent," "Young And Wasted," "Killer," and "Fits Like A Glove" are likely to come to mind. Or over-the-top shredding solos on Invasion songs "Animal," "Boyz Are Gonna Rock," "Ashes To Ashes," and "I Wanna Be Your Victim." Or even his twisted (no pun intended) take on the solo for KISS' classic "Calling Dr. Love" from Rio 1983.
It's no secret that Vinnie's guitar work with KISS and the Invasion is as subtle as the growl emanating from Gene Simmons' Punisher. However, in digging deep within Vinnie's personal discography, 1977's eponymous "Treasure" offers a beautiful contrasting overview of his six-string sensibilities, showcasing a youthful Vinnie Cusano in a musically mature, melodic light.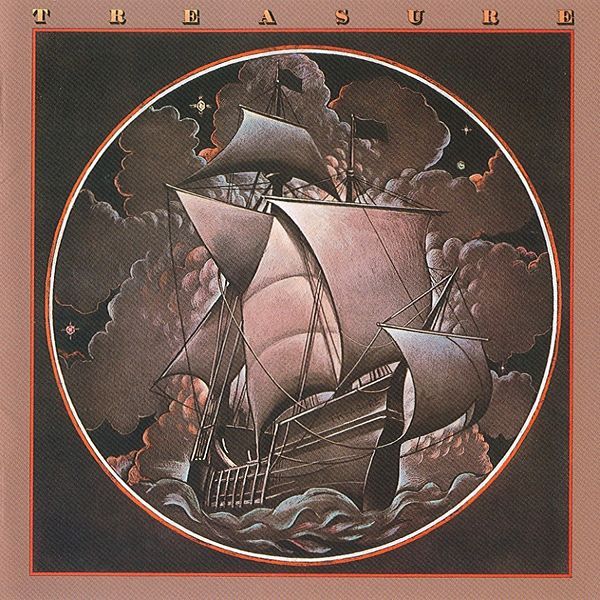 A project formed by Rascals' alumnus Felix Cavaliere, "Treasure" is steeped richly in elements of '70s melodic AOR rock, lying somewhere close to the musical ballpark of bands such as Foreigner, Boston and Kansas. Cavaliere's "blue-eyed soul"-laced vocals add a unique element to Treasure's sound, which is rounded out by ex-Fabulous Rhinestones drummer Jack Scarangella and journeyman bassist Rick Laird.
Matching the veteran Cavaliere's impressive vocals and keyboard stylings, Vinnie's guitar playing is a high point throughout this lost album, both in terms of his rhythm guitar work and solos. With regard to the latter, on "Treasure" we find tangible evidence of Vinnie's self-professed love for Jeff Beck and a smattering of techniques that would become hallmarks in the style of Vinnie's shredding alter-ego.
The lead track, "I Wanna Love You," gets the LP off to a
lazy weekend afternoon-type start
. As Cavaliere softly croons, "Well the first time I saw your face/It felt like our eyes embraced," Vinnie strums the song's lush harmony on a 12-string acoustic guitar. For the chorus, Cavaliere ups the dynamics and Vinnie follows in step, stabbing power chords on what sounds like a Fender Stratocaster. For his
melodic solo
, Vinnie unveils a series of question-and-answer phrases, suggesting a forceful musical conversation that resolves perfectly to the song's quiet final verse. He makes heavy use of the vibrato arm while also incorporating a particular rhythm that he would heavily utilize during his Invasion days, particularly on songs such as "Love Kills": an eighth note coupled with three sixteenth-note triplets. Also of note here: the solo for "I Wanna Love You" is played over an odd 7/4 time signature, which Vinnie navigates with ease.
For the trippy "Love Me Tonight," Vinnie helps pick up the song to a double-time feel with an
energetic solo heavy on bends and trills
-- listen to him milk the final bent notes up to an E note for all they are worth, a move reminiscent of his "note from hell" in the ending of "Fits Like A Glove." In the outro, Vinnie flashes some
whammy-infested hammer-ons and tasty chordal riffing
around Cavaliere's sparse vocals and Scarangella's syncopated drum fills.
Vinnie Cusano with drummer Jack Scarangella
Vinnie ably handles lead vocals on his two self-penned songs, "Innocent Eyes" and "Turn Yourself Around." With regard to the latter, Vinnie plays a
crystal-clean electric guitar figure in the intro
, with a sound similar to one that would turn up a decade later in the Invasion's "That Time Of Year." Of particular interest are Vinnie's
melodic phrases that support the chorus
-- the lines are as singable as the chorus itself. Vinnie's phrases employ the use of stacked intervals, a technique he would later expand upon in the Invasion through the use of an Eventide Harmonizer on tracks such as the aforementioned "That Time Of Year," "Love Kills" and "Ecstasy." (However, Vinnie actually physically doubled the parts here, as opposed to relying on the Eventide unit to electronically double them.) The song modulates for the
solo section as Vinnie forms a series of simple, melodic lines
. There is no sweep picking to be found here, only pure melody!
"Kissing her was like a summer day/So warm and golden brown/She let my rainbow fade away/Her love just can't be found," laments Vinnie on "Innocent Eyes," a tune hinting at his then-developing songwriting talent. The song's
intro is in the key of C major
, revolving around the key's tonic and dominant chords.
For the verse
, Vinnie modulates to the key of A major (the parallel major key for C major's relative minor key, A minor). Here, Vinnie employs a fluid harmony, which is carried out by his distorted chord stabs and Cavaliere's piano: A major - C# minor - D major - D minor - F# minor - C# major - B minor - E major - A major -- the final portion outlining a VI-V/VI-II-V-I progression, which would not be out of place in a Lennon/McCartney composition. The verse progression repeats and for his seamless move back to the chorus, Vinnie tacks on F and G major chords to resolve to the key of C major, outlining a strong IV-V-I progression.
For his solo
, Vinnie negotiates the underlying harmony with a melodic contour that is once again supported by stacked intervals, helping to achieve a fuller sound.
Landing in the middle of the Rascals-inspired "Think It's Love,"
Vinnie's solo
would be at home on either "Truth" or "Disraeli Gears," with lines suggesting not only Beck but Eric Clapton. The
fade-out jam
is ripe with pure '60s psychedelic rock-tinged bliss.
The laid-back title track arguably finds Vinnie at his melodic best. In and around Cavaliere's crooning ("The gift of love/Baby it's a treasure"), he
plucks lush major 7th voicings while a 12-string acoustic guitar forms
the harmonic framework underneath.
Vinnie's melodic fills musically dance with Cavaliere's voice
-- he once again tips the cap heavily to Beck as some of these singing lines would not be out of place on ballads such as "Cause We've Ended As Lovers." The song's fade out is supported by a Db major 7 - Cb7#11 progression, the latter chord suggesting a Cb lydian dominant tonality.
Vinnie navigates this sophisticated harmonic situation flawlessly
. Throughout this track, Vinnie's feel is simply impeccable, belying a green 25-year-old musician.
Unfortunately, Treasure would be a short-lived project. Cavaliere would move on to record a series of solo albums, though Vinnie contributed some guitar work, including the solo to "
Don't Hold Back Your Love
," on his 1979 "Castles In The Air" album.
As for Vinnie, Treasure marked some of his earliest studio experience. In 1976 he had recorded the single "Happy Birthday USA" and contributed session work for the band Hitchhiker. As the calendar turned to 1978, he would still be four-plus years away from his fateful meeting with the Hottest Band in the Land and his transformation to Vinnie Vincent. In the meantime, Vinnie would keep busy with work with Dan Hartman, Laura Nyro and Edgar Winter, among others.

Treasure performs live in 1977
For those wanting an additional taste of Treasure,
Wolfgang's Vault
offers two excellent live recordings captured at the Bottom Line in New York over two frigid winter nights in December 1977. ("We're having a good time up here, despite the cold outside," joked Vinnie.) Featuring Vinnie, Cavaliere, Scarangella, and bassist Marty David, the taut nine-song set from Dec. 11, 1977, contains eight tracks from "Treasure," including Vinnie leading the aforementioned "Innocent Eyes." The lone cover is a raucous run-through of "In The Midnight Hour," which showcases the musicality of each band member in the form of some cookin' blues-rock jamming. (The next evening, the band turned in a shorter version, plus a cover of the Rascals' "Good Lovin.'") Clocking in at more than 14 minutes, this performance of the Wilson Pickett classic is a feast of Vinnie guitar, especially his blistering solo at 2:02 and his lines that build beginning at @ 5:10 as Cavaliere introduces "guitar man Vinnie Cusano!"
If you're a fan of Vinnie Vincent, or if you like your melodic rock with a touch of blues, soul and pop sophistication, "Treasure" is one gem worth exploring.
("Treasure" was reissued by Wounded Bird Records in 2010. The album is currently available at both Amazon and iTunes.)
Related links:

"Treasure"
KISS Album Focus: Happy Days To Treasure, The VV' Ankh