Smashes, Hits, RIAA & Nielsen SoundScan
An interview with Yahoo! Music's Paul Grein, plus a listing of KISS' current Nielsen SoundScan figures
By Tim McPhate
How can RIAA list "Alive!" as being only gold certified? How many albums have KISS sold recently? How many albums have KISS really sold in the United States? Is the 80 million album global sales figure accurate? Why hasn't the KISS catalog been re-certified lately? How did "Sonic Boom" perform, given today's music industry landscape? Does a No.1 album carry as much weight as it did 25 years ago?

 How many copies has "One For All" sold?


If you're a diehard KISS fan (and a statistical junkie), chances are these types of questions have popped in your head recently, especially given the downtime leading to the first kernel of information regarding KISS' next studio album, "Monster."
With a career bordering on four decades, KISS have a rich history when it comes to gold and platinum and top-charting albums. But there's much to consider beneath the surface of album sales and RIAA certifications, and tracing the music industry back to the days before computers and up to the modern Nielsen SoundScan era. (And let's not forget those alleged "Billboard" chart fixings in the '70s).
In a bid to make sense of it all, KissFAQ caught up with music historian Paul Grein, who currently writes the Chart Watch blog for Yahoo! Music. Given Grein's 35-plus years of experience in the music industry, there is not a person more qualified to speak to these topics. As an added bonus to our extensive interview, Grein has also provided current Nielsen SoundScan figures for KISS.
So, take a trip through KISS' catalog as we crisscross Smashes, Hits, RIAA & Nielsen SoundScan ...
KissFAQ: Paul, you currently write the weekly Chart Watch blog for Yahoo Music! Can you outline your prior industry experience for our readers?
Paul Grein: I wrote for "Billboard" from 1975, when I was still in college, through 1992. While I was there, I created the Chart Beat column, which I wrote from 1981 through 1992. I was the magazine's Talent Editor in the mid-1980s. I was a contributor to the "Los Angeles Times" from the late 1970s to the late 1990s. I worked at American Top 40 in 1975-1976 (while I was in college). I was a consultant to the RIAA in the late 1990s. I started my Chart Watch blog for Yahoo! in 2007. In 2011, it went to twice a week, not counting periodic Chart Watch Extras. I've been lucky enough to make a living writing about music and music history, which I love. I like all genres of music and all eras of music.
KF: I want to begin in the '70s, before the days of Nielsen SoundScan. Following is an excerpt from "And Party Every Day: The Inside Story Of Casablanca Records," a 2009 book authored by former Casablanca executive Larry Harris:


"[Casablanca Records] leveraged the relationship with ["Billboard"] as much as we could. Eventually, I could walk into Bill's [Bill Wardlow] office, tell him the position on the charts I felt a given album should have, and lo and behold, there it would be. ... In 1977, I was able to get four KISS albums ["Alive!," "Destroyer," "Rock And Roll Over," and "Love Gun"] on Billboard's Top 100 at the same time."
This description depicts some sort of payola situation. To your knowledge, did this type of activity occur in the pre-SoundScan music industry?
PG: I've heard stories about chart manipulation prior to the advent of Nielsen SoundScan in 1991. As a music historian who relies on the accuracy of the charts (and other hard information sources), these stories distress me. If Harris' account is true, I would say that both he and Wardlow brought discredit to themselves.
I also think Harris gives himself too much credit: He makes it sound like he was primarily responsible for KISS' success. KISS was primarily responsible for KISS' success. The best promotion executive in the world can't make fans buy a record (much less support an act) that they're not interested in. (Pia Zadora, anyone?) That said, I'm glad that Nielsen SoundScan came along in 1991 and brought greater precision and transparency to the charts.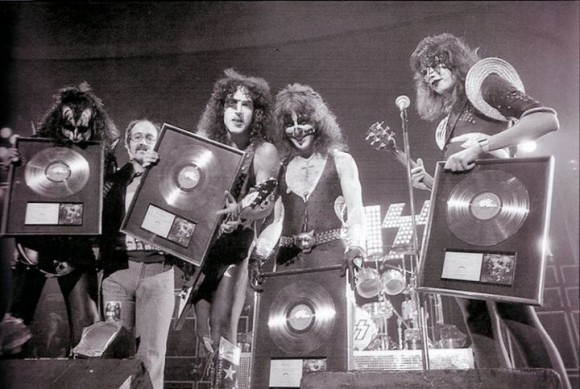 KF: How would one estimate how much a KISS album actually sold in, say, 1977?

PG: There are many factors you can look at in evaluating pre-1991 albums: peak position on the chart is the most obvious one, but weeks-on-chart is also telling. If an album had a long chart run, that tells you something.
"Alive!" spent more than two years on the chart (110 weeks). "Destroyer" spent more than one year (78 weeks). A quick-rise-and-fall suggests that it may have been a hype job. You also look at the gold and platinum certifications from the RIAA (which "Billboard" and/or Wardlow had nothing to do with). KISS had consistent success in that area. You can also look at the post-1991 sales on pre-1991 albums. If the post-1991 sales are significant, you can surmise that the pre-1991 sales were also strong. If the post-1991 sales are paltry, that doesn't necessarily prove that the pre-1991 sales were pumped up (some albums don't sell well over time). But flop or overhyped albums don't tend to sell big as catalog. 
KF: Before SoundScan was implemented in 1991, how exactly were album sales legitimately tracked, and what was the process for an album being certified?
PG: Back in the Dark Ages (circa 1975, when I first started writing for "Billboard" as a freelancer), "Billboard" had a team of 10 to 12 chart department personnel who would phone record stores around the country and ask if a given album was selling "Very Good," "Good" or "Fair." They would then collate that material and get a tabulation. The final chart was hand-positioned by the chart director, who would take other factors into account, such as whether the act was on tour, had a fast-climbing single, had a key TV appearance coming up ("Midnight Special," "Don Kirshner's Rock Concert," etc.). The idea was that the human element added something beyond what a computer could spit out; that it would smooth out a record's chart run and minimize zig-zags which would confuse the reader. Nowadays, we have those zig-zags, where albums and singles drop and rebound. And yes, those zig-zagging moves are confusing at times. But I'll take messy reality any day over something that has been manipulated.
KF: Paul, can you please provide updated SoundScan sales totals for the following KISS albums?
PG: Nielsen SoundScan compiled and owns this information. (Incidentally, they prefer to be called Nielsen SoundScan, not just SoundScan. So I try to always use the full name.) This is up-to-date as of the week ending March 4, 2012. (Some albums are split between two labels. If the second total was at least 10K, I added the separate totals together.)
KEY: Album: Nielsen SoundScan total (last official RIAA certification date)

KISS: 217,000 (gold, 6/77)


Hotter Than Hell: 185,000 (gold, 2/77)

Dressed To Kill: 214,000 (gold, 2/77)

Alive!: 274,000 (gold, 12/75)

Destroyer: 726,000 (double-platinum, 9/11)

Rock And Roll Over: 227,000 (platinum, 1/77)

Love Gun: 229,000 (platinum, 6/77)

Alive II: 304,000 (double-platinum, 2/96)

Double Platinum: 522,000 (platinum, 5/78)

Paul Stanley: 89,000 (platinum, 10/78)

Gene Simmons: 93,000 (platinum, 10/78)

Ace Frehley: 142,000 (platinum, 10/78)


Peter Criss: 71,000 (platinum, 10/78)

Dynasty: 167,000 (platinum, 7/79)

Unmasked: 177,000 (gold, 7/80)

(Music From) The Elder: 116,000

Creatures Of The Night: 161,000 (gold, 5/94)

Lick It Up: 101,000 (platinum, 12/90)

Animalize: 103,000 (platinum, 12/84)

Asylum: 88,000 (gold, 11/85)

Crazy Nights: 101,000 (platinum, 2/88)

Smashes, Thrashes & Hits: 830,000 (double-platinum, 2/96)

Hot In The Shade: 116,000 (gold, 12/89)

Revenge: 602,000 (gold, 7/92)

Alive III: 558,000 (gold, 10/94)

KISS My A**: 324,000 (gold, 8/94)

MTV Unplugged: 305,000 (gold, 10/96)

You Wanted The Best, You Got The Best!!: 330,000 (gold, 5/97)


Carnival Of Souls - The Final Sessions: 181,000

Greatest KISS: 413,000

Psycho Circus: 481,000 (gold, 11/98)

KISS: Box Set: 145,000 (gold, 12/01)

The Very Best Of KISS: 739,000

Millennium Collection: 397,000

Symphony: Alive IV: 137,000


Millennium Collection, Volume 2: 97,000

KISS Gold: 149,000


Alive! Box Set: 49,000 


Ikons: 13,000

Sonic Boom: 294,000
In addition, here are 10 albums that sold at least 10K that weren't on your list. The year isn't necessarily the year it was released, but the year Nielsen SoundScan began tracking it: 
1991, Interview Picture Disc: 18,000
1999, KISS Killers: 15,000
1999, 25th Anniversary Star Profile: 29,000
2003, Symphony - The Single Disc: 19,000
2004, Sound And Vision: 11,000
2005, Chronicles: 10,000
2006, Millennium Collection, Volume 3: 11,000
2008, Playlist Your Way: 13,000
2008, Playlist Plus: 23,000
2010, Icon: 76,000
Adding all these tallies together, we get 10,692,000. I'd round this off to 11 million for a good estimate of their U.S. sales since 1991. 
KF: Thank you, Paul, for providing fans with the most current Nielsen SoundScan information.
I think some of the confusion for fans in terms of KISS' album sales comes from the fact that there is gap between the certification of albums in the '70s and '80s and the Nielsen SoundScan era. For example, take KISS' 1974 self-titled album. "KISS" was certified gold in June 1977, according to RIAA's database. It's sold 217,000 albums in the Nielsen SoundScan era. That's more than 700,000 copies. However, there is a 14-year period between 1977 and the dawn of Nielsen SoundScan in 1991 that would seem unaccounted for. So in that sense, is there any way to get accurate sales figures for '70s or '80s KISS albums?
PG: Unfortunately, there isn't a good way to fill in the gap. The RIAA certifications are cumulative, so presumably if this album had reached 1 million by now, it would have been re-certified platinum, but labels don't always bother resubmitting catalog.
KF: KISS' 1975 live album, "Alive!," is considered a classic in many rock circles. I've seen it reported that the album is multiplatinum; in fact, Gene Simmons lists it as such on his website. However, RIAA has it certified at gold status. Is there data to substantiate that this "Alive!" has attained multi-platinum status?
PG: There is no hard data to substantiate this. It has sold 274K copies since 1991. Since it remained on the Billboard 200 for 110 weeks, I fully expect that it is a multi-platinum album.
KF: RIAA does not base its certifications on Nielsen SoundScan data. In today's terms, can you outline the RIAA album certification process, and what a certification is based upon?
PG: The RIAA certifications are based on shipments to record stores (and online sellers such as Amazon), not on sales to consumers. So sometimes, certifications outstrip actual sales. (There's the old industry joke that an album "shipped gold and returned platinum," which, come to think of it, first made the rounds in describing the fate of the four KISS solo albums in 1978! Actually, all four of those albums were certified platinum, which seems inflated, though "shipped platinum and returned double platinum" isn't as funny.)
Another factor you need to be aware of in RIAA certifications is that they count each disc in a multi-disc collection as a separate disc. That's why their list of all-time sellers has so many double-disc albums high on the list. (Billy Joel's "Greatest Hits, Volume I & Volume II" and Pink Floyd's "The Wall," for example.) These were both big hits, but their sales were "doubled" because they are double-disc collections. (In my view, this policy is overly generous to the point of absurdity.) 
Here's a little RIAA history. The Recording Industry Assn. of America, based in Washington, D.C., began issuing gold albums and singles in 1958. They added platinum albums and singles in 1976 and multi-platinum albums and singles in 1984. 
The main advantage to their certifications is that they go so far back (to 1958). The main disadvantages are the peculiarities I just mentioned. Also, I think they sometimes are overly accommodating to record companies, who are, after all, their members. They're a valuable piece of the puzzle, but (as with the "Billboard" charts pre-1991) have some complicating issues that you need to keep in mind.
KF: Digitally speaking, how do track equivalents play into album sales? For example, if someone downloads eight tracks from one KISS album, rather than the entire 10-song album, how does that work?
PG: Both Nielsen SoundScan and the RIAA treat tracks separately from albums. If someone downloads eight tracks from one album, that does nothing to boost the album's sales, but it boosts those individual tracks' sales.
KF: According to RIAA's top-selling artists
list
, KISS have sold 20 million albums in the United States. In doing a KISS search within RIAA's database, I found that their cumulative sales total for albums that have been certified stands at 24.5 million. Is this discrepancy a simple case of RIAA not updating their list?
PG: It would certainly appear to be. It's unfortunate. They should do a better job of keeping that list current. In their defense, it's a massive undertaking. Then again, that's their business.
KF: In KISS' case, many of their albums have not been certified in quite some time, 30-plus years with some of their '70s output. Which party initiates an album or catalog certification, an artist or a record label?
PG: Usually the record company requests a re-certification. I think there is a fee involved, to cover the cost of the audit. The reasons that record companies don't always/automatically do this include: They are too busy worrying about today's hits to care about the RIAA status of a decades-old album (that was probably from a prior, long-gone regime); the cost involved; and the fact that the artist may well no longer even be on the label so they have no real incentive to deal with it.
KF: What would be the pros and cons in certifying an artist's catalog? In other words, are there any possible detriments to an artist and/or label in a catalog being certified?
PG: The only "con" I can think of is if the album (or catalog) hasn't sold as well as the hype suggested, and they don't want to have the sales authenticated. If the label created buzz that made everybody think that an album sold 10 million copies and it actually sold only 6 million copies, they may not rush to have an audit. But I think the far more prevalent reasons are the ones I indicated in the answer above. They are far too busy and stressed worrying about today's hits and today's charts to care about what happened in 1977.
KF: "Destroyer" is KISS' most recent album to have been certified (double platinum, Sept. 2011). Any idea why this particular album would have been certified, and not any others? And could it have anything to do with the fact that Universal will be releasing a "Destroyer" deluxe edition this year?


PG: I think you just answered your own question! The album has sold 726K copies in the Nielsen SoundScan era, a total topped by just two KISS albums in this 21-year period: "Smashes, Thrashes & Hits" (830K) and "The Very Best Of KISS" (739K). This of course makes "Destroyer" their best-selling studio album of the Nielsen SoundScan era.

KF: Taking into account RIAA and Nielsen SoundScan figures, and any intangibles, in your professional opinion, how many albums have KISS sold in the United States?
PG: I'd say about 35 million. I'd say they sold at least twice as many albums in their heyday (the 1970s and 1980s) than they have in the Nielsen SoundScan era.
KF: In official press releases, KISS are prone to cite lofty figures such as 80 million and 100 million in terms of global sales. This would obviously include markets such as Japan, South American, Australia, Europe, etc. In your opinion, and given your U.S. sales approximation, do you think even the 80 million figure stands a chance at being accurate?

PG: Yes. Historically, the rough estimate was that an act could sell about as many albums outside the U.S. as in the U.S. In recent years, international sales have come to account for an even larger share of an act's total sales. So 80 million worldwide is certainly plausible.
KF: In terms of global album sales, do you know of any "official" tracking methods? For example, would there be a way to research how one of KISS' albums or their catalog has sold worldwide?
PG: Unfortunately, there is no single worldwide source. Each country has its own charts.
KF: Let's talk KISS members' solo albums. Paul, can you please provide updated Nielsen SoundScan totals for the following albums?

PG:

Peter Criss - Out Of Control: 7,000

Peter Criss - Let Me Rock You: 7,000

Peter Criss - One For All: 8,000

Ace Frehley - Frehley's Comet: 38,000
Frehley's Comet - Second Sighting: 4,000
Ace Frehley - Trouble Walkin': 9,000

Ace Frehley - Anomaly: 56,000

Vinnie Vincent Invasion - S/T: 15,000
Vinnie Vincent Invasion - All Systems Go: 26,000

Gene Simmons - A**hole: 36,000


Paul Stanley - Live To Win: 53,000

Bruce Kulick - BK3: 9,000
In addition, here are the totals for five solo albums you didn't list: 
Peter Criss - Cat #1: 29,000
Ace Frehley - 12 Picks: 36,000
Ace Frehley - Greatest Hits Live: 8,000
Ace Frehley - Loaded Deck: 18,000
Paul Stanley - One Live KISS: 2,000
This reflects a common phenomena with big groups. The group's name is very potent, but the individual members' solo efforts don't mean much.
KF: Thank you, Paul.
Are you able to run a report on how many albums KISS' entire catalog sold in 2011?
PG: I am not. KISS just misses Nielsen SoundScan's running list of the top 200 album sellers since 1991, which would make that much more doable.
KF: Including the four members' solo albums in 1978, KISS have released 23 studio albums, with 20 of these albums attaining gold status. One of these albums is 1981's "(Music From) The Elder," an album that caused some controversy given its conceptual nature. Is it possible this album has crept past gold sales?
PG: It has sold 116K copies since 1991, which is a respectable total. (As you can see from the chronological list, that is more than four of their next five album releases.) If it had a paltry total, I would be inclined to say that the certification must have been inflated. But this makes it possible. Let's look at the charts: #75 peak. Eleven weeks on the top 200. OK, put me down as skeptical about 500K, but it may not be the unmitigated flop KISS fans had assumed.  
KF: In terms of Top 20 albums on the Billboard 200, how do KISS rank compared to other legacy rock acts from the '70s (Aerosmith, Van Halen, Heart, Rush)?

PG: Let's take a look. KISS have had 16 Top 20 albums. Aerosmith have had 14. Van Halen have had 15. Heart have had 10. Rush have had 15. Kiss fans, rejoice.
KF: Anyone who reads your weekly blog knows you have a knack for putting together all sorts of fun and interesting chart statistics. Are there any unique tidbits in terms of KISS' chart history?
PG: KISS is one of the few acts to release so many sequels of an album: "Alive!," "Alive II," "Alive III," and "Symphony: Alive IV." The idea of "franchises" wasn't as established in the 1970s when the first two of these albums were released as it is today (Lil Wayne's "Tha Carter," Jay-Z's "The Blueprint," etc.) Also, "Beth" was an influential rock ballad. Alice Cooper had had "Only Women" in 1975, but the idea of a rock band doing a sensitive ballad (to broaden its appeal) wasn't as obvious and ubiquitous as it later became.
KF: In 2009 KISS released their most recent album, "Sonic Boom." The album peaked at No. 2 on the Billboard 200, their highest album peak position ever. For legacy acts releasing new albums, the pattern is usually a big sales total in the first week, and large percentage declines in subsequent weeks. "Sonic Boom" spent 12 weeks on the Billboard 200, and is close to 300,000 in sales in two and a half years. Would you deem this a success or failure, taking into account KISS are a legacy act and the state of the industry compared to their glory years?
PG: It did OK, given that it came out in a down market, but it's hard to call it a big success. The fact that it spent just 12 weeks in the top 200 isn't great. And the sales tally (294K) isn't great, either.
KF: "Sonic Boom" is actually a multi-disc set (2 CDs and DVD). What does this mean in terms of the album's sales?
PG: "Sonic Boom" has sold 294K copies. To Nielsen SoundScan, it doesn't matter if it's an EP or a six-CD set. A sale is a sale. It does matter to the RIAA, which doubles sales of 2-CD sets. So based on this sales tally, "Sonic Boom" qualifies for gold.
KF: Can you speculate as to why "Sonic Boom" would not have been shipped gold? 
PG: Labels are more careful than they used to be not to over-ship at the outset. They used to flood the market and would often get heavy returns. In today's leaner and meaner music business, labels can't afford to do that. Also, of course, there are far fewer stores that carry CDs. These days, if a label is lucky enough to get a hit, they keep replenishing shipments. (The RIAA doesn't count only initial shipments, but total shipments.)
KF: In your opinion, how do illegal downloads affect the sales a legacy act's new album? In other words, is there any way to estimate how many sales they lose to illegal downloading?
PG: I don't think illegal downloading has as big an impact with legacy acts as it does with new bands. Fans of legacy acts are much more wedded to physical product than young fans are. They like the tactile experience of holding a CD, looking at the packaging, the booklet, liner notes, lyrics, photos, and credits. If the legacy act is starting to broaden its appeal to include more young fans, then illegal downloading might become more of a problem. Of course, the legacy act will probably be so glad that they're starting to appeal to a new generation of fans that they won't care...too much.
KF: In your opinion, does a No. 1 album carry the same weight today, compared to 20, 25 years ago?

PG: That depends on the album, of course. Adele's "21" will top 8 million in sales next week (as I write this), which would have been tremendous in any era. But she's a phenomena. Only 13 albums topped the 1 million mark in 2011, the same as in 2010, but just one-third of the total in 2007 (39). 48 albums topped the 500K mark in 2011, again the same as in 2010, but just one-half of the total in 2007 (96). I would have to say a #1 album doesn't carry the same weight as 20 or 25 years ago, but I'm grateful for the handful of exceptions every year.
KF: KISS have a new studio album, "Monster," on the way this year. Interestingly, Van Halen's new studio album is holding in the Top 20 after four weeks. Is there anything KISS can do to maintain some chart staying power in 2012?


PG: Hit songs are always helpful.
KF: Going one further, is there a chance a KISS album could attain gold sales in 2012? Would it take a song collaboration with a Lady Gaga (who interestingly is a KISS fan)?
PG: Since the band's 2009 album has yet to go gold, it won't be easy. A Gaga/Kiss teaming might be just the ticket. It would remind people of the band's chief legacy: bringing back theatricality in the mid-1970s, after the "T-shirt and jeans" singer/songwriter era of the early '70s. Alice Cooper, Elton John and David Bowie were also at the forefront this wave.
KF: "Sonic Boom" was a Walmart exclusive. A few legacy acts, namely Journey, AC/DC and Eagles, had some success with their respective Walmart exclusives. But more recently, Def Leppard and Foreigner -- both big selling bands in their day -- did not have as much success. Is the "exclusive" model petering out? And in your opinion, would KISS be better suited to go with a different distribution deal for their new album?
PG: Def Leppard is no AC/DC and Foreigner is no Eagles (or even Journey). I think that's the main reason these exclusives didn't do as well as the first wave of them. Walmart went from A acts to B acts (no offense to Def Leppard or Foreigner. For the record, there are also C, D and F acts, so a B isn't so bad.) I'm not sure that Walmart is the best place for KISS. The band is rock and roll, which involves a hint of danger and sex appeal.
KF: Back to Van Halen. Their album, "A Different Kind Of Truth," is at No. 11 after four weeks, which seems pretty good for a legacy act after one month. I believe their sales total was around 20,000 this past week, which some fans have rated as poor, especially compared to their lofty sales in the '80s. But given the current industry landscape, and given their chart position is reflective of the amount of people purchasing music, how would you assess the Van Halen album's performance?
PG: Van Halen's album has sold 300K copies in four weeks. (Incidentally, it sold 25K this week, not 20K. Acts don't mind if you overstate their sales, but they don't like it if you understate them.) In this climate, that's not bad, but I expected more, given that it's a reunion project, and the band's first studio album with its original lead singer since 1984. It really should have sold 300K the first week. I think the jury is still out on whether this album will be seen as a hit or a disappointment. 
KF: Final question: Are there any KISS albums/songs in Paul Grein's music collection?
PG: The only CD I could find in my collection is "MTV Unplugged," but I really like "Beth" and of course "Rock And Roll All Night" is one of the great rock anthems. I had fun doing this. KISS fans: rock on.
(KissFAQ wishes to thank Paul Grein for his time and diligence, and for providing comprehensive Nielsen SoundScan data. Make sure to check out Paul's Chart Watch blog for his ongoing expert chart analysis.)

Related links:
Special Report: How Is The KISS Catalog Selling??

Special Report: Dissecting KISS' Nielsen SoundScan Totals